Published (crowdfunded edition) by Byline Books, April 2018, 237 pages
Cover copy by the Publisher, J.J. Patrick: In this new work of political philosophy, Asim Qureshi reflect on injustice in the world he sees around him.  Covering issues from torture and extrajudicial killings, to racism and discrimination, A Virtue of Disobedience takes the reader on a journey through the history of oppression, and begins a conversation about how previous acts of resistance and disobedience, through faith and virtue, can be liberating in the range of contemporary issues communities face today.
Synopsis by the author, Asim Qureshi:
This book is an attempt to reflect on the world we live in, and by centring faith, to posit a notion of virtuous disobedience, one that is congruent with the history and experience of others who have fought for the rights we are seeking.
The state of exception is not a modern phenomenon. In times of political crises and repression, states have resorted to emergency powers, often directed at a specific suspect community/ies. Whether it is the period of Nazi Germany, the black civil rights movement, Apartheid or the Troubles in Northern Ireland, there has been a tension between the way that power exerts itself and those who seek to resist the excesses of the state.
Movements seeking rights and equal treatment before the law produced vast amounts of literature to intellectually describe and challenge the reality and discourse of their periods – they formed a body of resistance literature that has been crucial in formulating what we consider today to be among the most important works on anti-racism and anti-tyranny.
As a Muslim, whose adult life has been spent largely responding to the excesses of the global War on Terror – I have found there has been no faith-centred response to these same challenges. Further, the issue for Muslims is compounded by a class of scholarship that preach quietism in the face of despotism in the East, and a non-confrontational approach in the West. Doctrine is used politically and religiously to neutralise any dissent to the state, in whatever circumstance this might occur.
I am concerned by this, and history teaches us that this is not how human beings should respond to authoritarianism. I want to study the movements of the past and learn lessons from their plight, but more importantly, their resistance. I want to understand how they went about enforcing the morality of the law, in a circumstance where it was being structurally decimated. I also want to understand how the past is connected to the present, and so want to look at the killing of Philando Castile in the US, the Grenfell Tower fire tragedy in the UK and the general state of political violence in our world.
This book is an attempt to reflect on the world we live in, and by centring faith, to posit a notion of virtuous disobedience, one that is congruent with the history and experience of others who have fought for the rights we are seeking. This book does not attempt to provide all the answers, but to start a conversation about what the status quo is, and what philosophies we can adopt in furthering rights for ourselves and others. Do the scholars have it correct, that we must wait for the hereafter for justice, or as the actor Jessie Williams states, 'the hereafter is a hustle'. My hope is that by being disobedient to authoritarianism, we can put forward a claim to being obedient to our principles.
"An important – and pressing – contribution to understanding our place in society today." – Shaykh Zahir Mahmood – Islamic scholar
"Qureshi has produced a critical antidote in a critical time, urging us to becoming more than mere spectators to injustice and oppression." – CJ Werleman – journalist and author of The New Atheist Threat
"Thought provoking" – Marc Sageman, former CIA officer
Also included in the book is the poem A Virtue of Disobedience, by poet and writer Suhaiymah Manzoor-Khan, who graduated with a history degree from Cambridge University and master's in Postcolonial Studies at SOAS. She writes and speaks about politics, race, gender, feminism, Islam, being visibly Muslim, Eurocentric academia, decolonising minds and bodies, and more.
Watch a video presentation of A Virtue of Disobedience
Read interviews with Asim Qureshi in TRTWorld and Milestones
See the original crowdfunding page
Read this article in Publishing Perspectives Byline Media launches its new issues-driven press
ASIM QURESHI graduated in Law (LLB Hons) and LLM, specialising in Human Rights and Islamic Law. Currently he is undertaking a PhD in political science. He is the Research Director of the advocacy organisation CAGE, and since 2004 has specialised in investigations into the impact of counter-terrorism practices worldwide. In 2009, his book, Rules of the Game: Detention, Deportation, Disappearance, was published by Hurst and Columbia University Press. In 2010, he began advising the legal teams involved in defending terrorism trials in the US and at Guantanamo Bay, Cuba.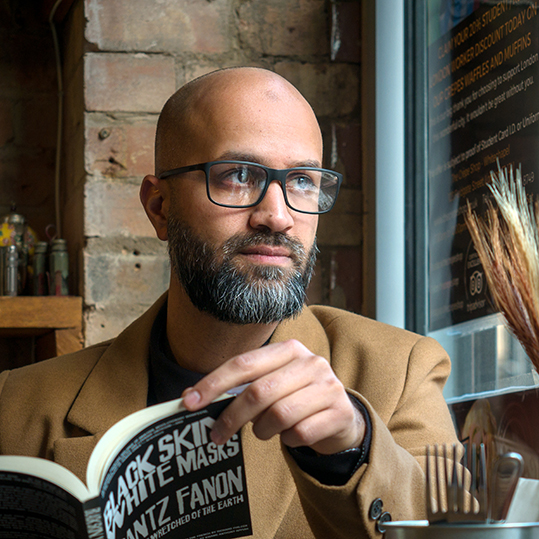 ©Abdullah Bailey