First launched by Byline Books in 2018 and in September 2019 a new and expanded edition was fully crowdfunded and published by Unbound
Now includes a foreword by Anne Norton, Professor of Political Science at UPENN and author of On the Muslim Question: "A Virtue of Disobedience is not simply 'A Handbook for Activists' – it is a handbook for human beings. This is a book that bears witness to an ethical life. It will be a companion in struggle, a consolation in adversity, a teacher, and a source of joy and courage. Nietzsche wrote: "All those who go on their own way/ Carry my image too into the breaking day." I do not know that day will break for us. Yet I believe that this book will send many off on different paths to justice, and that the movement of those dispersing flames will light the darkness."
This book is an attempt to reflect on the world we live in, and by using the Qur'an and the traditions of the Prophet Muhammad, to posit a notion of virtuous disobedience, one that is not only congruent with the teachings of Islam, but also true to the history and experience of others who have fought for the rights we are seeking. This book does not attempt to provide all the answers, but to start a conversation about what the status quo is, and what philosophies we can adopt in furthering rights for ourselves and others. Do the scholars have it correct, that we must wait for the hereafter for justice, or as the actor Jessie Williams states, 'the hereafter is a hustle'. I want to ascertain the lines of intersection across all of these moments, in the hope that the conversation can shift beyond the 'good Muslim bad Muslim' reductionisms that currently set the discourse. My hope is that by being disobedient to authoritarianism, we can put forward a claim to being obedient to justice. 
Includes new sections on:
Neoliberalism kills people
- The violence of neoliberalism 
- A faith based ethic in response to this violence
- A decolonial rethinking of what inequality means
Liberal complicity 
- How special advocates reinforce the racism of the judiciary 
- How liberal engage and reinforce a racist system 
- Responding to allies who cooperated with the Commission for Counter Extremism
New chapters on:
Collaborators 
- A four-point method developed to assess complicity with injustice 
- Reflections on state sponsored trips to Israel in the US and UK 
- Thoughts on the resisting roles played by Ilhan Omar and Rashida Tlaib, the first Muslim Congresswomen in the US.
Disobedience to Condemnation 
- Thoughts on why Muslims are required to condemn terrorism. 
- A scientific approach to understanding the efficacy of calls to condemn terrorism.
Opening the book is a powerful poem by activist and writer Suhaiymah Manzoor-Khan (@thebrownhijabi).  See the powerful video:
"An important – and pressing – contribution to understanding our place in society today." – Shaykh Zahir Mahmood – Islamic scholar
"A brilliant, sensitive, and necessary text." Jamil Jan Kochai, author of prize-winning 99 Nights in Logar Electric Literature, 7 Books About the War on Terror
"Qureshi has produced a critical antidote in a critical time, urging us to becoming more than mere spectators to injustice and oppression." – CJ Werleman – journalist and author of The New Atheist Threat
"Thought provoking" – Marc Sageman, former CIA officer
Watch a video presentation of A Virtue of Disobedience
Read interviews with Asim Qureshi in TRTWorld and Milestones
Read this article in Publishing Perspectives Byline Media launches its new issues-driven press
ASIM QURESHI graduated in Law (LLB Hons) and LLM, specialising in Human Rights and Islamic Law. He completed his PhD (2019) in International Conflict Analysis from the University of Kent. He is the Research Director of the advocacy organisation CAGE, and since 2004 has specialised in investigations into the impact of counter-terrorism practices worldwide. In 2009, his book, Rules of the Game: Detention, Deportation, Disappearance, was published by Hurst and Columbia University Press. In 2010, he began advising the legal teams involved in defending terrorism trials in the US and at Guantanamo Bay, Cuba.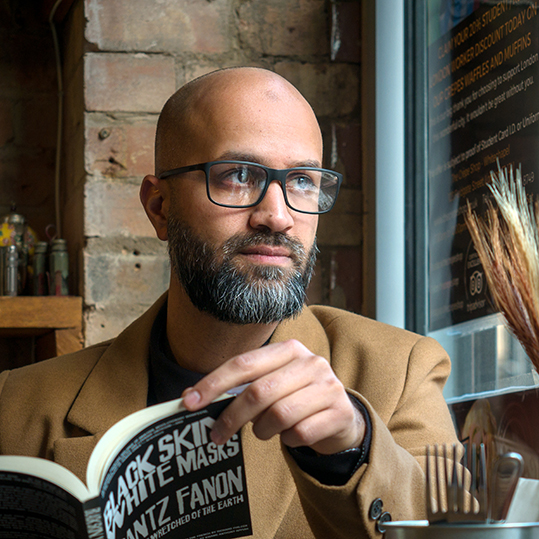 ©Abdullah Bailey