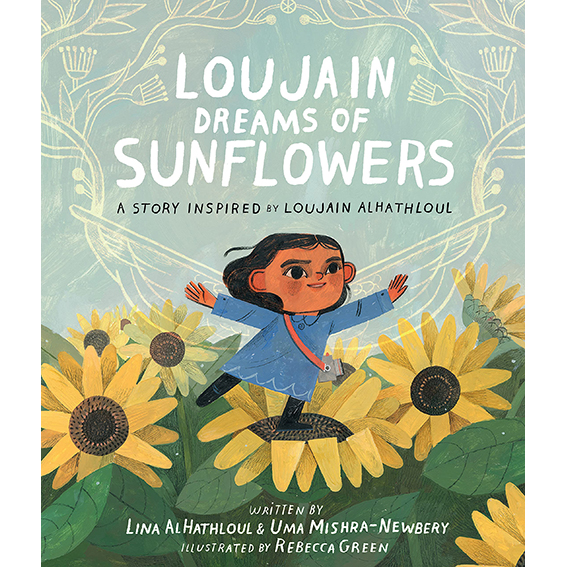 "My sister Loujain has inspired the world with her bravery and courage. Even though she has been in prison for nearly three years, she is never forgotten -- not even for one day. I am looking forward to this picture book being in the hands of children and parents globally so that they too can know that my sister Loujain has never given up on fighting for what is right,"

co-author Lina AlHathloul
Publishers Weekly announced on 9 December 2020 the acquisition of children's picture book, Loujain Dreams of Sunflowers by Editorial Director Maria Russo at mineditionUS. The book, written by Lina AlHathloul and Uma Mishra-Newbery, is inspired by the real-life bravery of Lina's sister, imprisoned Saudi women's rights activist Loujain AlHathloul.
The children's picture book by Uma Mishra-Newbery and Lina AlHathloul and illustrated by Rebecca Green is set to be published by mineditionUS in Spring 2022 in the United States, with France, Germany and other countries to follow.
"Our book is a story about a girl who dreams of seeing an enormous field of sunflowers, despite living in a country where only boys are allowed to fly. This story would not have been possible were it not for the courage of Loujain. She has inspired thousands of people globally, and it is our hope as authors that kids and parents too will know the story of Loujain, and be moved and inspired," said co-author Uma Mishra-Newbery.
Loujain Dreams of Sunflowers is for young readers ages 4 to 8 years old, and is inspired by the Nobel Peace Prize nominee Loujain AlHalthloul. Along with the magical story of a young girl who perseveres and achieves her dream of flying despite gender bias in her country, the book will include age-appropriate informational material to help parents and teachers present Loujain's life story, including her successful campaign to lift Saudi Arabia's ban on women driving, her subsequent imprisonment of nearly three years, and the worldwide girls' and women's human rights movement that her case has galvanized.
"It is an absolute honor for mineditionUS to publish Loujain Dreams of Sunflowers," said Maria Russo. "Our mission is to publish books that expand children's experiences of cultures other than their own, opening their hearts and minds and creating the next generation of true global citizens. We are thrilled to be working with Lina, Uma, and Rebecca to bring children around the world this beautiful story inspired by Loujain AlHathloul's courage and fight for justice, and to teach them about her life and the ongoing struggle to regain her freedom."
Uma Mishra-Newbery and Lina AlHathloul are human rights activists. Lina is the sister of Loujain AlHathloul. Loujain Dreams of Sunflowers is their debut book. Rebecca Green is the New York Times best-selling illustrator of picture books including Becoming a Good Creature, written by Sy Montgomery, and the author/illustrator of How to Make Friends with a Ghost.
To follow the book journey visit the website and follow on Instagram
To learn about Loujain AlHathloul, the #FreeLoujain campaign and how you can help visit