THE HIDDEN THINGS by Jamie Mason, to be published by Gallery Books/Simon & Schuster USA in August 2019, 352 pages
An atmospheric thriller inspired by the real-life unsolved theft of a seventeenth-century painting and featuring a courageous teenage heroine who is determined to uncover the truth even as the secrets and lies tear her family apart. See the publisher's page
"A treat: a heist story taken to pieces and expertly put back together at off-kilter angles into a startling, smart, vivid book." - Tana French, New York Times bestselling author of The Witch Elm
"A smart and hugely entertainingly thriller, with so many sharp twists and hairpin turns that you'll need to hold on for dear life. But it's the compelling, nuanced characters--dark, light, and every shade in-between--who will stay with you long after the last page." - Lou Berney, author of November Road
"Greed and revenge collide as Jamie Mason deftly explores an art theft gone terribly wrong. The Hidden Things is a wholly original and deeply compelling read that will keep readers on the edge of their seats." - Mary Kubica, New York Times bestselling author of The Good Girl and When the Lights Go Out
"A tense and captivating story of things both lost and found, The Hidden Things puts an entirely unique twist on the aftermath of an art heist. A sharp, atmospheric thriller that lingered long after I turned the final page—I couldn't put it down." Megan Miranda, New York Times bestselling author of All the Missing Girls and Come Find Me
Jamie Mason was born in Oklahoma City and grew up in Washington, DC. Jamie lives with her husband and two daughters in the mountains of western North Carolina. She is the author of three acclaimed thrillers: Three Graves Full, Monday's Lie, and The Hidden Things.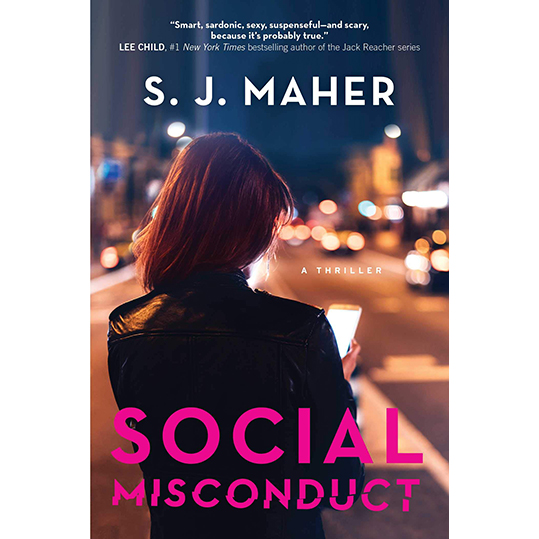 SOCIAL MISCONDUCT by S.J. Maher, to be published by Simon & Schuster Canada in April 2019, 336 pages
A timely and shocking thriller about a young woman who is the target of a social-media smear campaign. See the publisher's page
Candace Walker is thrilled when she lands a new job at a hip Manhattan tech company and gets a brand-new iPhone. She's more than ready to move on from creating clickbait ads for weight-loss pills and herbal erection boosters, and is determined to dazzle the startup team she joins.
A week later, though, everything is at risk: Candace is the target of a mysterious harasser and an online smear campaign. She tosses her new phone into the Hudson River, begins hiding out in her sister's storage locker in New Jersey, and can't think of a single person she can trust. But Candace hasn't come this far—and gone to such lengths—to submit to what is happening without a fight.
"Smart, sardonic, sexy, suspenseful—and scary, because it's probably true." —Lee Child, #1 New York Times bestselling author of the Jack Reacher series
S.J. Maher is an award-winning journalist who has uncovered scandals, reported from remote outposts, jails, warships, hospitals, parliamentary chambers, Afghanistan, and Haiti. His second novel, Salvage, was shortlisted for awards by the Crime Writers of Canada and The International Thriller Writers.